On Sunday, September 18th 2022, Premier League match between Chelsea vs Liverpool at Stamford Bridge has been officially postponed, in order to honour the final burial of the late Queen Elizabeth II.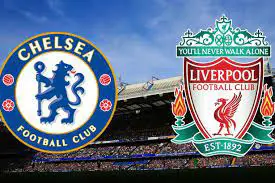 Since there won't be enough police in London to maintain security during the late Queen Elizabeth II's burial procession, the game has been postponed.
The Premier League has issued the following statement: "Seven of the ten Premier League games this weekend will be played, with three games being postponed due to circumstances surrounding The Queen's burial.The two Premier League games that were postponed on Sunday, September 18 will also have different kickoff times: Chelsea's game against Liverpool at Stamford Bridge and Manchester United's game against Leeds United at home and the match between Brighton & Hove Albion and Crystal Palace, scheduled for Saturday, September 17, at 15:00 BST, has also been postponed.
How to watch Chelsea vs Liverpool live stream: Watch FA Cup final live TV in UK, USA and Nigeriav
Chelsea's next league game won't be until the first of October, when they travel to Crystal Palace, due to the upcoming international break. There is no information available regarding the make-up of these two games, Liverpool at home and Fulham away. At the earliest, January is the earliest date we have available.