Manchester United will play 9 tough and hardest fixtures this October in both the Premier League and UEFA Europa League. Man United are likely to win all their 9 matches compared to struggling Chelsea who will hardly raise 7 points out of the possible 27 points. Man United are expected to cruise past Man City on Sunday 2nd October at Etihad Stadium before hammering Omonia Nicosia at Cyprus on 6th October and destroying Everton on 9th October.
The Red Devils are ready to ease past Omonio Nicosia at Old Trafford on 13th October in their UEL 2nd leg match before battering Newcastle United at Old Trafford in EPL on 16th October and demolishing Tottenham on 19th October at the Theatre of Dreams. Man United will ruthlessly butcher & slaughter Chelsea at Stamford Bridge on 22nd October, beat Sheriff Tiraspol at Old Trafford on 27th October in UEL and humble West Ham on 30th October at Old Trafford in Premier League encounter.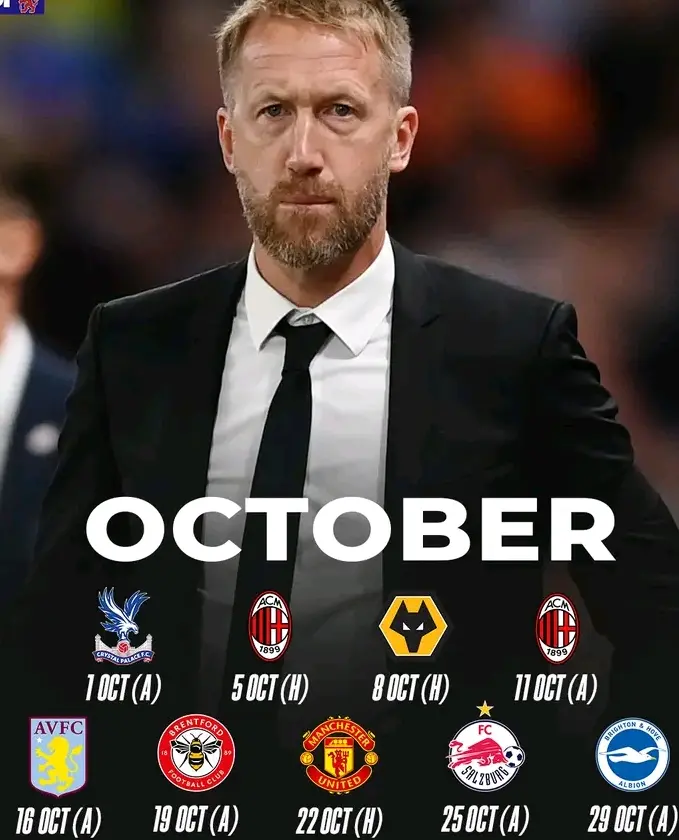 Chelsea are expected to struggle in the month of October with several draws and suffer big defeats after appointing new Manager Potter who is yet to claim first victory at the club. Chelsea are likely to draw against Crystal Palace on 1st October before being humiliated at home by AC Milan in UCL and narrowly beating Wolves on 8th October at Stamford Bridge. Chelsea will again suffer a big defear on 11th October at Sansiro against AC Milan before travelling to Villa Park on 16th October to drop points against Aston Villa in EPL.
Good news this afternoon as Chelsea duo report at Cobham training camp
Chelsea are likely to beat Brentford on 19th October at Community Stadium before heavily losing to Premier League giants Man United on 22nd October and being clobbered by RB Salzburg on 25th October in UCL. Chelsea are likely to beat Brighton controversially due to questionable penalty on 29th October in the Premier League to only earn 7 points in October compared to Red Devils who will have 27 points.