Romelu Lukaku on it again, as he speaks on his exit from Chelsea. Chelsea boss Thomas Tuchel is still considering to add another signing to his current squad after literally agreeing deal with EPL rivals Manchester City over landing the England's international Raheem Sterling.
Sterling is being viewed as a perfect target to bolister the misfiring attacking options of Tuchel following the departure of Romelu Lukaku with Hakim Ziyech as well facing the exit door.
However according to the Express Sport, Chelsea player Romelu Lukaku has fired bitter shots at Chelsea after miserable 2021/22 campaign that saw many supporters and pundits slam his performance.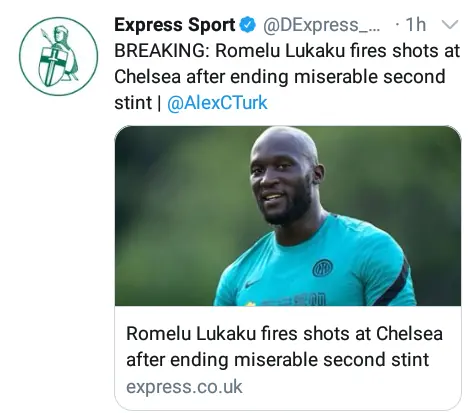 In an Instagram post, th Belgium international revealed that there will be no tries from Tuchel and now he's going to show them how things are done, an indication that he didn't love being at Stamford Bridge after his controversial interview.
" I'ma show you how things are done, no more Tries" he posted on his timeline after some few days of inter Milan's return after being signed for a whooping £97.5m.
Chelsea rejects Inter Milan offer to secure Lukaku back to the club
It's quite disgusting that Lukaku is now taking a dig at club who trusted him despite his bad form while with Manchester United.